Blogs
---
El último número de HispaBrick Magazine®, la revista para los fans de las construcciones de LEGO®, ya está disponible. En este nuevo número veremos cómo son las extraordinarias creaciones medievales de Cesar Soares, el proceso de creación del genio de la ciencia ficción Pierre-E. Fieschi o cómo crear las muñecas japonesas de Mike Dung, y conoceremos un poco más a Paul Vermeesch, otro de los Grandes Creadores del mundo.
Yun Mi Antorini nos ofrece, en exclusiva, el resultado de un estudio que ha hecho LEGO sobre la vida de los fans. Marcos Bessa, diseñador sénior de LEGO, nos explica cómo se desarrolla un set y entraremos en las tripas de la LEGO House para conocer la evolución del proyecto.
Nuestros ya clásicos tutoriales de MINDSTORMS y LEGO® WeDo no podían faltar. Analizamos varias de las últimas novedades como el Tie Fighter UCS, el Kwik-E-Mart y un profundo análisis sobre la nueva línea de Jurassic Park.
Nuestro dibujante Arqu medes le rinde un homenaje a nuestro Editor Jefe, Carlos Méndez quien, después de 22 números al frente de la revista, ha decidido tomarse un descanso y dedicarse a lo que más le gusta: Construir. Desde la redacción de HispaBrick Magazine nunca le agradeceremos lo suficiente a Carlos todos estos años de dedicación a la revista. Esperamos estar a la altura a partir del próximo número, previsto para Septiembre.
¡Gracias Carlos!
Podéis descargaros de forma gratuita este número aquí: HBM022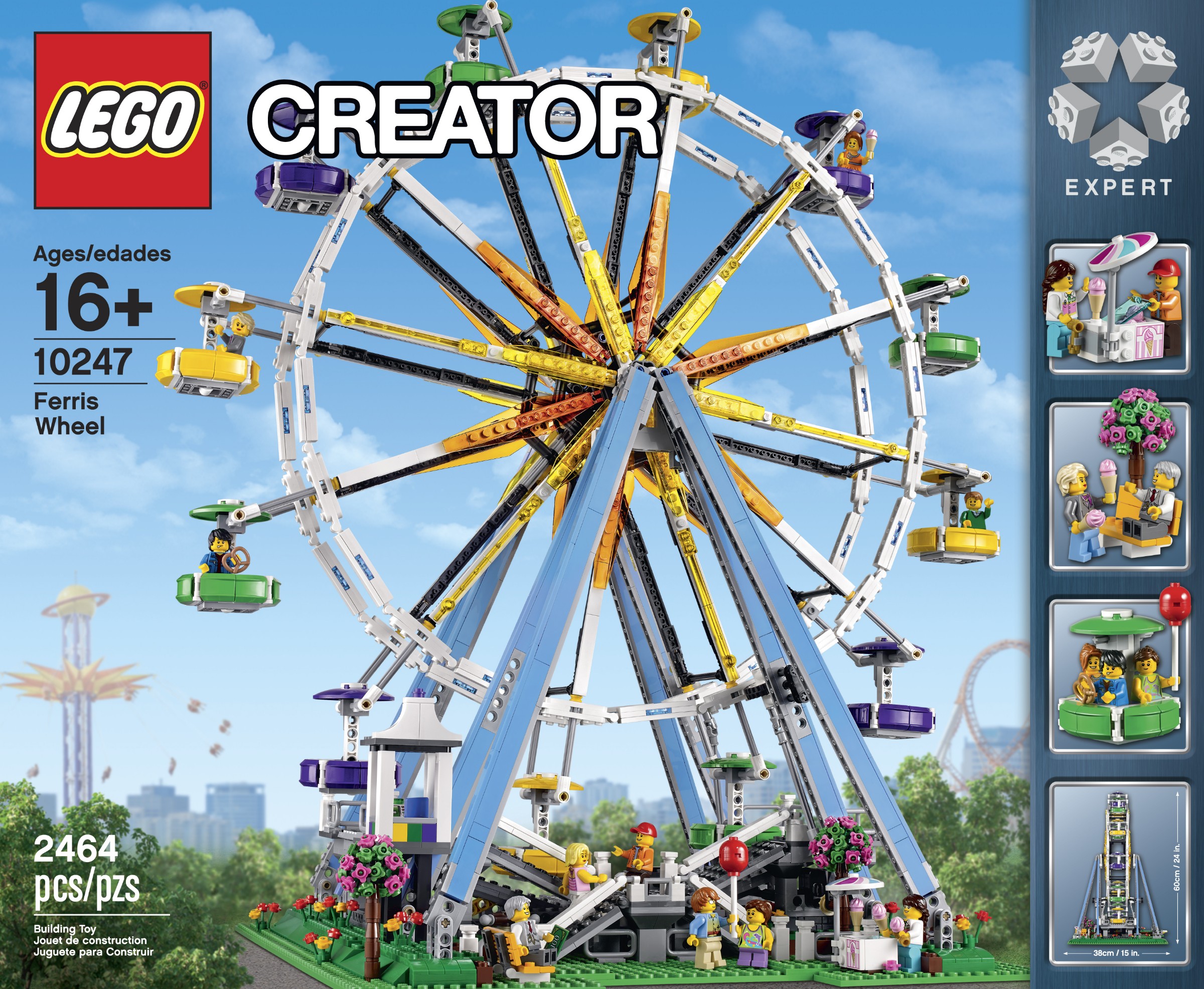 Ages 16+. 2,464 pieces.
US $199.99 - CA $229.99 - DE 179.99€ - UK £149.99 - DK 1499.00 DKK
*Euro pricing varies by country. Please visit shop.LEGO.com for regional pricing.
Experience the wonderful LEGO® Creator Ferris Wheel!
Build the iconic Ferris Wheel, featuring 12 colorful suspended gondolas with opening doors, ice cream stall, kiosk, 10 minifigures and more.
El 31031 "Rainforest Animals es uno de esos sets de nueva horneada que inmediatamente evocan un "¡qué mono!". LEGO lleva muchos años plasmando animales en ladrillos, pero hay algo en este set que evoca una especial simpatía hacia el objeto en cuestión.
En parte tiene que ver con la paleta de colores que corresponde muy bien con los animales elegidos, y por otra parte el evidente carácter del loro que adorna la portada de la caja añade a la atracción del set.
Tenemos en nuestras manos el set de LEGO Creator 31036 Toy & Grocery Shop, que después del anterior LEGO Creator 31026 Bike Shop & Cafe ayudará a completar nuestra ciudad con más tiendas.
Esta vez tenemos la posibilidad de montar una tienda de ultramarinos y una juguetería que gracias al 3 en 1 podremos convertir en una oficina de correos o un puesto de periódicos.
El Future Flyer es uno de los sets de 2015. Dentro podemos encontrar una interesante mezcla de modelos, como un Robot Mecha, un avión y un deportivo descapotable.
Es siempre interesante analizar un set de la línea CREATOR por que se puede ver como los diseñadores usan sus habilidades para ofrecer tres interesantes modelos con un número limitado de piezas. En este caso es incluso más difícil por que hay algunas piezas (las articulaciones) que limitan de alguna manera su uso en otros modelos.
¡Ya falta menos! Los próximos días 11 y 12 de abril tendrá lugar la exposición de LEGO que organiza HispaBrick Magazine dentro de la Feria de Mungia.
La XIII Feria de coleccionismo, que organiza la asociación Bitxikiak (www.bitxikiak.org) ha preparado un espacio para que se pueda realizar la exposición de LEGO que este año tiene una ubicación diferente. Estaremos cerca del ayuntamiento, en el nuevo emplazamiento del Gaztegune.
Así que ya sabeis, si queréis ver de cerca algunas de las construcciones que solemos incluir en las páginas de la revista ¡no os lo podéis perder!.
Los horarios son :
Sábado: de 10:30 a 14:30 y de 16:30 a 20:30
Domingo: de 10:00 a 14:30
The the LDraw.org Steering Committee has sent us an exciting press release concerning some important developments in the LDraw system of tools. HispaBrick Magazine 022, which will be published on May 1st will contain additional information on this subject, but we wanted to let you know as soon as possible:
LDraw.org is going to allow digital replicas of LEGO clone and custom bricks in its official parts library. This decision has been taken by the LDraw.org Steering Committee yesterday.
In the past LDraw.org had a policy which allowed only representations of parts manufactured by the LEGO group in its official library. This forced part authors to offer their own creations on personal websites and prevented the addition of bricks developed by competitors such as Mega Bloks or Enlighten Brick to the LDraw library.
"We have dropped the restrictions in favour of a wider LDraw experience and believe that clone bricks will affect the building style of our users in a positive way", said Willy Tschager, member of the LDraw.org Steering Committee. "With LDraw you might use bricks in colours LEGO never moulded and the results are stunning. I guess this will be much true also for some awesome windscreens one can for example find in Mega Bloks 6859 - Call of Duty Hovercraft", Tschager adds.
In a first round LDraw part authors will submit custom bricks they have designed over the years, such as "Plate 2x2 with studs underneath" or female torsi. Later mainly 3D-counterparts of Mega Bloks, Best-Lock Construction Toys and Kre-O by Hasbro, which have been prepared in the foresight of this allowance. "But it's not limited to those … there are also great pieces in military sets from Kazi or Sluban", the Steering Committee welcomes the new entries.
The LDraw Parts Tracker, an online system used by the community to review and certify unofficial parts, has been adapted and will offer the possibility to brand the uploaded files according to the manufacturer. Nonetheless the different libraries will be joined, once the users have become familiar with the additions and start mixing LEGO bricks with the clones. By then parts will be distinguishable only by the new !SYSTEM meta-statement in the part-code. Also more general construction toy parts (that don't connect with LEGO) are planned for inclusion in the library in the future: Lincoln Logs, GeoMag (for which a new magnetic connector primitive is in development) and Meccano.
There are also talks with the LDD - LEGO Digital Designer development team at LEGO. "We hope LEGO will joins us in our attempt to add value to the overall building experience, as they did back in 2007 with the development of the so called Lego Universe Mode in their LDD software: In addition to some 1400+ bricks you could suddenly build in any colour, even in colours that haven't been produced – like transparent tires. Something LDraw could do right from the start in 1995. Nowadays the LDD Extended Mode is normal business and not a hack for LEGO Universe designers. We bet the same will happen to clone bricks in LDD", Tschager said. There hasn't been a breakthrough in the negotiation so far, but at least signals of cautious opening.
The LDraw System of Tools is a popular system of free software tools for modeling LEGO creations in 3D on a computer. The parts library that is central to the programs is under continuous maintenance and extension by the LDraw community since 1997. LDD as a virtual building experience attracts several million people each year to build a huge range of amazing creations.
LDraw Content Management
On behalf of the LDraw.org Steering Committee
LEGO lanza una "nueva" línea de set 'básicos' con su propia página dedicada a la línea: LEGO.com/classic. Según explica esa misma página (de momento sólo en español), LEGO Classic está enfocado a desarrollar la creatividad y cada set contiene una mezcla de bricks clásicos junto con algunas piezas especiales. El sets e completa con un separador de piezas y un librito de instrucciones que anuncia 7 construcciones a modo de ejemplo de lo que se puede hacer con las piezas.
Aquí tenemos otro set de la línea Classic. Este set contiene 483 piezas e incluye un pequeño manual de instrucciones para construir varios elementos a la vez.
Este set viene en un contenedor de plástico en vez de las típicas cajas de cartón. La tapa simula una pieza de LEGO y es perfecto para guardar tus piezas. Mi tapa tenía un pequeño defecto que no permitía cerrarlo, pero por lo demás creo que es muy útil, porque al ser un set pensado para los más pequeños el recipiente es perfecto pata que guarden las piezas.
Las piezas que tiene el set son muy variadas y vienen en colores muy vivos. Además en este set tenemos ruedas y hinges, que no vienen en otras cajas de esta línea. Los modelos descritos en las instrucciones son muy sencillos de construir e incluyen trenes, plantas, animales y vehículos. Son algo más avanzadas que las descritas en otros sets como el 10694 ya que incluyen algunos elementos funcionales, hechos con bisagras. Como todas las cajas que salen ahora de la línea Classic lo que más llama la atención son los colores, muy vivos y en una variedad muy grande.
Para aquellos constructores más avezados este puede ser un buen punto de partida para los que coleccionan bricks 2x4, ya que vienen hasta 12 colores distintos. O para quienes buscan piezas para ampliar las construcciones de la línea Friendo, ya que la variedad de colores que contiene es muy similar.
71016 - The Kwik-E-Mart
Ages 12+. 2,179 pieces.
US $199.99 - CA $229.99 - DE 199.99€ - UK £169.99 - DK 1699.00 DKK
*Euro pricing varies by country. Please visit shop.LEGO.com for regional pricing.
Visit The Kwik-E-Mart—Springfield's favorite convenience store!
Welcome to The Kwik-E-Mart—your one-stop shop for convenience foods at inconvenient prices! This highly detailed and iconic LEGO® version of The Simpsons™ store is packed with more rich, colorful details than a Mr. Burns birthday cake has candles! Walk under the huge Kwik-E-Mart sign and join Homer, Marge and Bart as they browse the aisles filled with beauty products, diapers, dog food, pastries, fruits, vegetables and more—including Krusty-O's and Chef Lonelyheart's Soup for One. Then head over to the refrigerated cases where you'll find Buzz Cola, chocolate milk, various other drinks and snacks… and frozen Jasper! There's also a Buzz Cola soda fountain, juice dispensers, coffee machine, arcade games, ATM and stacks of Powersauce boxes. At the counter, Apu is ready to tempt you with a variety of printed magazines, comic books, cards, tofu hot dogs, freshly expired donuts and his ever-popular hallucination-inducing Squishees. At the back, there's a storage closet complete with rat and an exit. On the roof you'll discover Apu's secret vegetable garden, while outside this amazing model features bright-yellow walls, 2 phone booths, a stack of purple crates, and a dumpster area with 'El Barto' graffiti, opening door and an iconic blue dumpster that also opens. You can also remove the roof and open out the rear walls for easy access. This set also includes Snake (a.k.a. Jailbird), who loves nothing more than stealing cars and robbing the Kwik-E-Mart—but this time Chief Wiggum is hot on his tail in his police car. Capture this bandit and return peace to the town of Springfield and the amazing Kwik-E-Mart. This fantastic set includes 6 minifigures with assorted accessory elements: Homer Simpson, Bart Simpson, Marge Simpson, Apu Nahasapeemapetilon, Chief Wiggum and Snake (a.k.a. Jailbird).
· Set includes 6 minifigures with assorted accessory elements: Homer Simpson, Bart Simpson, Marge Simpson, Apu Nahasapeemapetilon, Chief Wiggum and Snake (a.k.a. Jailbird)
· Features opening rear walls, a removable roof with secret vegetable garden, Kwik-E-Mart signage, light-blue walls, dusty blue floors, turquoise welcome mat, shelves, refrigerated cases, counter, Buzz Cola soda fountain, juice dispensers, coffee machine, 2 arcade games, ATM, crates of Powersauce bars, surveillance cameras, rear storage closet with a rat, cheese, rat hole and an exit door.
· Shelves feature beauty products, diapers, dog food, pastries, fruits, vegetables and more—including Krusty-O's and Chef Lonelyheart's Soup for One
· Refrigerator cabinets feature a variety of beverages including cans of Buzz Cola... and frozen Jasper!
· Counter features a cash register, magazine and card display, lottery machine, hot dog oven, donut display and a Squishee dispenser with 2 Squishees
· Also includes Chief Wiggum's police car featuring an opening trunk, removable roof and space for 3 minifigures
· Accessory elements include Bart's spray can, Marge's shopping basket, Apu's broom and Chief Wiggum's cuffs and truncheon
· Snake (a.k.a. Jailbird) is exclusive to this set for spring 2015
· Removable roof features rare, dark-orange bricks
· Lift off the roof and open out the rear walls for easy access
· Drink a Squishee and get that sugar-high feeling!
· Apprehend Snake before he robs again!
· Stock up with overpriced convenience goods
· Discover frozen Jasper!
· Relax in Apu's utopian vegetable garden
· Have a donut.... mmm, dooonuts!
· Kwik-E-Mart measures over 5" (14cm) high, 14" (38cm) wide and 10" (27cm) deep
· Police car measures over 2" (6cm) high, 2" (6cm) wide and 5" (15cm) deep
Available for sale directly through LEGO® beginning May 2015 via shop.LEGO.com, LEGO® Stores or via phone.
Set: 10246 Detective's Office
Número de piezas: 2262
Minifigs: 6
Desde el mismo día que vi el primer edificio modular me enamoré con el concepto. El tamaño y nivel de detalle de esa construcción, y todos los siguientes, las historias que cuentan, el hecho que siendo de tan diferentes estilos forman un conjunto muy bueno - parecía el sueño del AFOL hecho realidad. Y aún así, hasta este despacho de detective nunca construí (ni tuve) ninguno de los modulares. ¿Porqué? La respuesta es sencilla, y si me conoces lo más mínimo probablemente adivines algunas de las razones.
Con dos niñas en casa que cantan "suéltalo" a todas horas, la versión LEGO de su cuento Disney favorito simplemente tenía que aparecer por casa. Costó un sobre esfuerzo no ponerme a construirlo, pero al final tuvimos una gran sesión de construcción, y aunque no junto siquiera dos piezas estuve muy ocupado como encuentrapiezas supremo y girapáginas oficial.
75095 TIE Fighter™
Ages 14+. 1,685 pieces.
US $199.99 - CA $229.99 - DE 199.99€ - UK £169.99 - DK 1799.00 DKK
*Euro pricing varies by country. Please visit shop.LEGO.com for regional pricing.
Presenting the Ultimate Collector Series TIE Fighter – the iconic Imperial starfighter!
We proudly present the Ultimate Collector Series LEGO® Star Wars TIE Fighter. As featured in many of the action-packed Star Wars battle scenes, including the decisive battle that led to the destruction of the first Death Star, this large-scale LEGO-brick rendition of the classic Imperial starfighter has intricate detailing, as well as an opening top hatch and an exclusive TIE Fighter Pilot minifigure with a blaster pistol. And when you want to keep it safe from Rebel attack, mount the model on the display stand and keep yourself updated with all the key facts and figures on the included fact plaque. The Ultimate Collector Series TIE Fighter is the perfect addition to your Star Wars collection!
• Includes a TIE Fighter Pilot minifigure with a blaster pistol
• Features an opening top hatch
• Includes a display stand and informative fact plaque
• The perfect flagship model for fans of Star Wars and LEGO® brick building
• Collect one of the most iconic starships in the galaxy!
• TIE Fighter measures 18.5" (47cm) high, 12" (30.6cm) long and 12.2" (31cm) wide
Available for sale directly through LEGO® beginning May 2015 via shop.LEGO.com
Designer Video: http://youtu.be/Hy-ctC0bSpo
Un año más, HispaBrick Magazine estará presente en la Feria de Coleccionismo de Mungia, que este año celebra su decimotercera edición. La feria está organizada por la asociación Bitxikiak http://www.bitxikiak.org/cabecera.htm y tendrá lugar los días 11 y 12 de abril de 2015.
En la feria habrá de un espacio expositivo, situado en el Gaztegune de la calle Aita Elorriaga, donde se llevará a cabo la exposición de construcciones de LEGO(R) organizada por HispaBrick Magazine, como en anteriores ediciones.
Los horarios son :
Sábado: de 10:30 a 14:30 y de 16:30 a 20:30
Domingo: de 10:00 a 14:30
Ya está abierto el periodo de registro para poder asistir como expositor. Para cualquier duda o pregunta podéis mandar un email a